INTRODUCTION
The Presbytery is one of the 10 UCZ presbyteries. It stretches from Solwezi to Chavuma, covering a distance of 600 Km between the two districts. It also shares its boundaries with Angola and Congo DR on its western side, while on its Northern side it shares borders with the Copperbelt Presbytery. While in the eastern side the presbytery shares borders with the western presbytery. The geographical position is of course a great challenge, taking into consideration the far distances between consistories. Despite the distance challenge the presbytery is endowed with a lot of mineral deposits making mining the main stay of economic activities. The province is also covered by vast forests thereby contributing largely to the timber and honey production. Furthermore, the presbytery boasts of having the best pineapples in the region. All in all, Northwestern presbytery is the land flowing with honey and pineapple juice.
THE HISTORY OF THE UNITED CHURCH OF ZAMBIA IN NORTH WESTERN PROVINCE
The United Church of Zambia (UCZ) in North-Western Province started in 1975 by a group of already established members in the UCZ who came to Solwezi for work. This group comprised of United National Independent Party (UNIP) officials of the Central Committee who headed the province. At the same time, people like honorable BouticeKapalu MCC and honorable Beyani MCC were members of the group. The group also comprised civil servants, parastatal workers, missionaries and expatriates. Notably were Roy and Joyce a couple, and teachers at Solwezi Secondary School who were instrumental in organizing and coordinating the members.
The group used to congregate in the St Alban Temple, now Anglican but due to too many denominations congregating there, a problem of ownership of the temple arose and the group left and began congregating at community development within Solwezi. The group began to diminish and lose membership as a result of members being transferred.
Meanwhile, Rev Mpundu of Nchanga congregation who facilitated the opening of Solwezi congregation was later replaced by Rev Siatwiinda who came on transfer to Solwezi. At this point Solwezi congregation was officially established.
The church spread to other districts in the province and the following congregations were formed:
Solwezi Congregation under Rev. Siatwiinda
Kasempa Congregation under Evangelist Muteba
Kabompo Congregation under Rev. Sampa Bret
Zambezi Congregation under Evangelist Namindo
Maheba Congregation under Rev. Kapuka also Chiwempala congregation Chairman with Rev. Dalimphor from Mindolo and a member of United Nations.
Mwinilunga congregation under Evangelist Muteba.
After a while Rev. Saitwiinda was moved from Solwezi and was replaced by Rev. B. Chibende. Before long, Evangelist R.I Simwase was moved from Kasempa to Solwezi congregation to take over from Rev. Chibende.
The membership continued to increase in all the congregations in the province such that by 1981, the North Western Consistory was formed under the Copperbelt Presbytery with Rev. Sikazwe.
Later Rev. Simwase left for Mindolo Theological College for further training there was a leadership vacuum, but after a while Rev. P.K Lombe was moved to Solwezi. After Rev Lombe was transferred, Rev. E. Mwenya tookover and was later replaced by Rev. P.K Mutombo, the later came Rev. J.C. Mufunda.
Meanwhile, the church continued to grow numerically as a good number of preaching points were established in all congregations.
In 1991, North Western consistory qualified to be called a Presbytery under Rev. Bishop Margaret Miller who was the first Bishop of North Western Presbytery as Rev J.C Mufunda was the Presbytery secretary, while Mr. G. Mugala was Treasurer. The Presbytery was divided as follows:
Solwezi Consistory – Rev J.C. Mufunda as Chairperson
Mwinilunga Consistory –Evangelist Muselepete Chairperson
Kasempa/Mufumbwe Consistory – Rev. Kunda Chairperson
Zambezi / Kabompo Consistory – Simunyola
In the initial formation of the UCZ in North-Western, there was a problem of accommodation i.e., a place of worshippers well as a residence for church workers. Many congregations depended on government institutions like schools for a place of worship. The church faced a lot of hardships which made the congregations to move from one place to another. The Church is now divided into   eight (08) Consistories, namely:
Solwezi East
Solwezi West
Kalumbila
Mwinilunga
Zambezi-Chavuma
Kabompo
Mufumbwe
Kasempa
ADMINISTRATIVE STRUCTURE
LEADERSHIP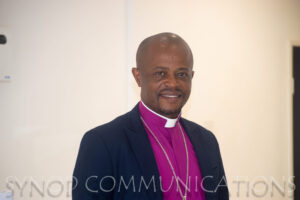 Bishop Moses Gondwe –         Presbytery Bishop(2016-2019,2020-203)
Rev. Niza Chele            –         Presbytery Secretary (2023-2024)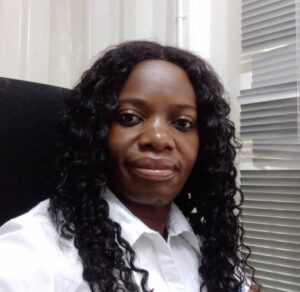 Mrs. Enka Ng'andwe –         Presbytery Treasurer(2021-2022)
FORMER PRESBYTERY BISHOPS, SECRETARIES AND TREASURERS 
Bishop Margaret Miller                         1991- 1995
Bishop Dawson Kunda             1996 – 2003
Bishop Silvia Mukuka 2004-  2011
Bishop David Mujumila 2012- 2015
RESBYTERY SECRETARIES
Rev. J.C Mufunda 1991 – 1995
Mr. Chifwelu (late) 1996 – 2001
Mr. S. Mulenga 2002 – 2007
Mr. J. Liswaniso 2008 – 2011
Mr.  Kindaba 2012 – 2015
Rev. R. Kanchele 2016-2018
Rev.M.Chitundu   2019-2020, 2021-2022
G. Mugala 1991
Miss R. Mutantabowa
Nyambe (late) –
T.T. Kabandama 2004 – 2007
F. Musonda 2008 – 2011
T.T. Kabandama 2012 – 2015
Bowa 2016 to date
AUXILIARY STAFF
Catherine Chisanga Mulenga- Office Manager
 COMMITTEE/GROUP CONVENERS
Rev. A. Chaile –         CTC/CBSI
Mr. Katandula –          CPDC
Mrs. S. Nama             –          Communication
Rev. D. Msukwa –          Stewardship
Rev. M. Mulenga –         CRR
Deaconess A. Manda –          CDSJ
Rev. T. Chele –          Lay Preachers
Rev. T. Muke –         DWE
Mr. Kondoloni –         Agriculture
Rev. M. Mofya –         Investment
Mr. M. Siakalima –         Strategic
Mr. M. Kunda –          Youth
Mrs. L. Kapila –         WCF
Mr. G. Mugala   –          MCF
MEMBERSHIP STATISTICS
| | | | | | |
| --- | --- | --- | --- | --- | --- |
| CONSISTORY | COMMUNICANT MEMBERS | CATECHUMEN | ADHERENTS | CHILDREN | YOUTH |
| Solwezi East | 2,435 | 84 | 115 | 1,025 | 1,535 |
| Solwezi West | 1,980 | 96 | 78 | 1,084 | 1,008 |
| Mwinilunga | 246 | 34 | 27 | 168 | 227 |
| Zambezi | 165 | 11 | 51 | 90 | 120 |
| Kabompo | 206 | 15 | 26 | 80 | 132 |
| Mufumbwe | 181 | 42 | 33 | 97 | 80 |
| Kasempa | 433 | 26 | 201 | 339 | 210 |
| Kalumbila | 615 | 95 | 79 | 397 | 305 |
| TOTAL | 6,261 | 403 | 610 | 3,280 | 3,617 |
 CHURCH WORKERS AND THEIR PLACEMENTS 
The Presbytery has 21 Ministers plus 1 diaconal worker serving in the following placements.
1. The Presbytery Bishop- Rev. Moses Gondwe
2. The Presbytery secretary Rev. Titus Niza Chele –         Mushitala Congregation
3. The Rev Moses Chitundu –                                                 Trinity Congregation
4. Rev. Howard Hamwiinga – Kyawama Congregation
5. Rev. Mwenya Chilongu Hamwiinga (Mrs) – Butemwe Congregation
6. Rev. Dick Msukwa- Tumwvanganai Congregation
7. Rev. Kasuma Chali – Kimiteto Congregation
8. Rev. Mubanga Mulenga -Ebenezer Congregation
9. Rev. Exilda Bwalya Kasonde – St. Dorothy Congregation
Kalumbila District
10. Rev. Neddy Chanda – Kalumbila Congregation
11. Rev. Mwelwa Mofya- Manyama Congregation
12. Rev. Josephine Katuna -(KisasaCongregation
Mufumbwe District
13. Rev. Alinani Chitalu
Kabompo District
14. Rev. Elija Chilolo
Zambezi district
15. Rev. Changwe Musonda
Chavuma District
16. Rev. C. Simukoko
Kasempa district
17. Rev. Timothy Muke- St. Paul Cong
18. Rev. Kelvin Mumba- St. Margaret Cong
Ikelengi District
19. Rev. Aaron Mpande (new)
Mwinilunga district
20. Rev. Cephas Ng'oma
4. MEMBERSHIP STATISTICS
CONSISTORY
COMMUNICANT MEMBERS                       MALE \ FEMALE
CATECHUMEN
ADHERENTS
CHILDREN
TOTAL
ZAMBEZI
114
13
42
176
345
KABOMPO
178
20
13
82
293
MUFUMBWE
93
21
7
223
344
KASEMPA
475
130
185
485
1,275
SOLWEZI EAST
2,366
66
177
1,337
3,946
SOLWEZI WEST
867
98
49
1,683
2,697
MWINILUNGA
273
25
48
178
524
9,424
 SPIRITUAL GROWTH
In the quest to realize the wider vision of The United Church of Zambia through the annual theme,"Revive Thy Work Oh Lord," the Presbytery has been involved in a number of spiritual enhancing programmes. Notable ones being the revival meetings held during the revival week and, Prayer and Fasting programmes conducted in congregations. Furthermore, annual retreats are observed in all consistories, while bible studies (Wednesday) are observed with attendance in some congregations not good. It is our prayer that the theme for the year will help us to grow the church in almost all areas. e.g. the youth, MCF, WCF and choirs.
WOMEN'S CHRISTIAN FELLOWSHIP (W.C.F.)
The group has continued to grow both numerically and spiritually. The annual renewals have continued to take place. The Presbytery has 679 WCF members.
MEN'S CHRISTIAN FELOWSHIP
The MCF group activities are progressing well and a good number of men are interested in joining the group. Rededications are observed in most consistories with a good number of men being rededicated. With the great need for evangelism in the church, the MCF has always been available to champion this cause in our Presbytery.
YOUTHS
The Presbytery has a total membership of 3441 youths, drawn from Girls and Boys brigade, choirs, praise teams and Sunday school. In most consistories all groups are there though some are not very active.
 PROJECTS
  CHURCH HALLS
The following Congregations are under construction:
Trinity Congregation –         50%
Mufumbwe congregation –         70%
Ikelenge Congregation –         45%
Margrets -Kasempa Congregation- 75%
Kyawama Congregation –         40%
Kawanda (Kabompo) Congregation – 60%
Kalumbila Congregation –         45%
Kisasa Congregation –         60%
Weighbridge Congregation –         40%
           MANSES
Tumvang'anai      –         Completed
Mushitala            –         Completed
Manyama            –         Completed
Manyama            –         Completed
Butemwe           –         80%
Ikelenge             –         Foundation level
Chavuma and St Dorothy, Congregations have acquired residential plots for Manse.
        FARMS
The Presbytery runs Mumena Farm Retreat Centre. Furthermore, Solwezi East consistory has a farmland in the Kabilangwa area, in Chief Kapijimpanga .
HEALTH
In partnership with the Zambian government, the Northwestern presbytery oversees the running of a clinic called Jagaimo which is based in Meheba Refugee Camp. The camp has a large catchment area of about 2,500 -3,500 people, most of whom are the expecting mothers. The Clinic has had its face uplifted with the new maternity wing built.
2023 INUDCTIONS 
The following Church Workers are scheduled for induction in 2023:
1. Rev. Titus Niza Chele on 29/01/23 at Mushitala Congregaion  Solwezi
2. Rev. Nebby Chanda  on 26/02/23 Kalumbila Congregation
3. Rev. Alinani Chitalu on  26/03/23 Mufumbwe Congregation
4. Rev. Elija Chilolo on 30/04/23 Kabompo Congregation
5. Rev. Exilda Bwalya Kasonde at  St. Dorothy Congregation in  Mushindamo district
6. Rev. Moses Silweya on  25/06/23
7. Rev. Aaron Mpande on  30/07/23 at  Ikelengi Congregation
8. Rev. Kasuma Chali on 27/08/23 at Kimiteto Congregation Solwezi