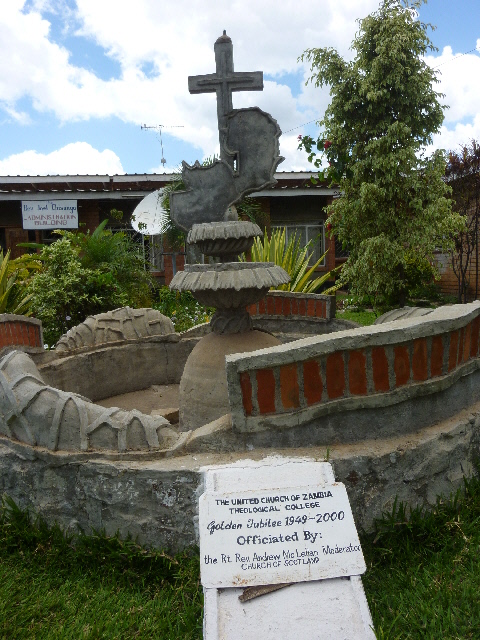 The United Church of Zambia University is situated at Kitwe's Mindolo Ecumenical Foundation and its main objective is captured in the Vision Statement which states: "TO DEVELOP PASTORAL AND ACADEMIC EXCELLENCE IN ORDER TO PREPARE WOMEN AND MEN TO PROVIDE PASTORAL CARE AND SERVICE FOR THE CHURCH OF JESUS CHRIST IN THE WORLD". The Mission statement of the College states: "TO PREPARE AS THEOLOGIANS PROFICIENT MEN AND WOMEN WHO ARE WELL-MOTIVATED FOR THE SERVICE OF THE CHURCH OF JESUS CHRIST IN THE WORLD". The University also provides academic consultancy services to optimize its viability.
In partnership with South Africa's University of the Western Cape, the College offers degree programmes in Theology.
The United Church of Zambia University was founded in 1949 by the United Church of Zambia at Kashinda Mission in Mporokoso District.  It moved to its current site in the city of Kitwe in 1961.  It has a teaching staff of 22, which includes both full and part time staff.  84 students were registered in 2006 of which 24 were women and 60 men.  Students come from Zambia, the Democratic Republic of Congo, Kenya and Malawi.
The college offers the BTh Degree in its 4 year program, Diploma in Theology (3 years) and the Certificate in Diaconal Ministry (2 years).  The college is affiliated to the University of the Western Cape in south Africa.  It is a full member of the Association of Theological Colleges in Eastern Africa (ATIEA), Nairobi, Kenya and it is registered with the Technical Vocational and Educational Training Authority (TEVETA).