A  Congregation of 200 from the United Church of Christ and the United Church of Canada  formally came together at a joyful and moving service on Saturday, 17 October 2015 in a new partnership of worship, word and communion, fulfilling Jesus' prayer that "They may all be one". The venue was St. Andrew's United Church in Niagara Falls, Ontario,  Canada.
Rev. John C. Dorhauer,, UCC  President, said  whilst this fulfilled Christ's prayer,  it was only the first step in faithfulness to the Gospel that can change the world. Nora Sanders, General Secretary of  the United Church of Canada, was grateful for the celebration, hospitality, fellowship and  openness they had enjoyed on the journey. Leaders from both denominations then signed an official communion document.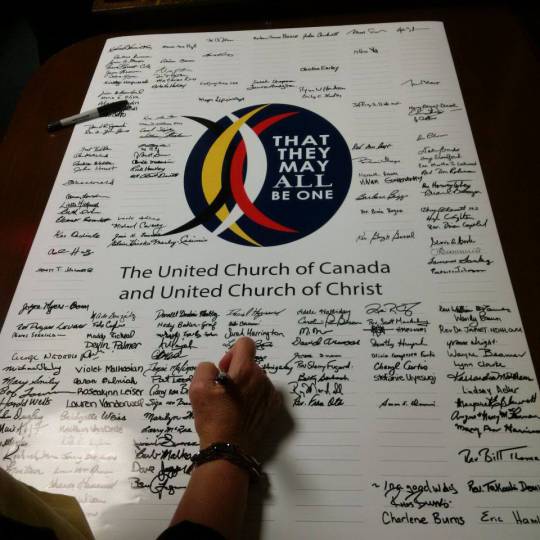 It was signed by Dorhauer and Sanders and by Dale Bonds, Chair of the United Church of Christ Board and the Rt. Rev. Jordan Cantwell,. Dorhauer and Cantwell  then exchanged stoles as a symbol of their shared purpose to proclaim the gospel for the mending of the world in their common mission in God's world, witnessing to God's love for all."
The agreement allows the churches to recognize each  others' sacraments, the ordination and the calling of ministers; expressing the unity we know that exists through Christ, and  in these things that affirm our identity as his disciples.
Both churches belong to the family of uniting and united churches around the world and together are deepening their faith, as followers of Christ."
Later, President of the North American WCC  and Anglican Bishop Rt. Rev. Mark MacDonald,  in his sermon, .said that this is just a step along the way and  he  hoped that all Christians can journey together where God is calling them to be. He saw the Niagara Falls as an image for minds and  hearts, as a place of migration.
After Communion, Cantwell sent the congregation out to put the commitments and  agreement into action.
Giving thanks Dorhauer said it was now time for co-missioning, and to go where God's spirit sends them in one accord.
Watch a video of the entire service, courtesy of The United Church of Canada.