Republican Vice-President Inonge Wina has said the church is significant in the lives of people because it is not only a house of worship but a place where values are nurtured.
Speaking during a church service at the United Church of Zambia (UCZ) Western Presbytery in Limulunga District of Western Province on Sunday 13/05/2018, Mrs Wina said a nation that is founded on love will always prosper, adding that Zambia is one even if it was composed of different tribes.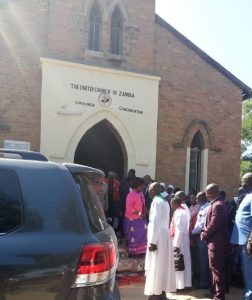 Meanwhile, the Vice-President donated K20, 000 to launch the building project of UCZ Limulunga congregation stating that it was evident that the church was growing thus the need for a bigger structure.
Vice-President Wina who wedded in the same church said the church was a custodian of memories of many people in the community.
She encouraged the congregants to work amicably in the project so that they manage to raise the K500, 000 thousand required to finish the project.
The morning church service was attended by various senior government officials from different districts of Western Province and the traditional leadership.
And Western Presbytery Bishop Lubinda Manyando who expressed gratitude to the Vice President's contribution said the church should play its role as a mediator in the reconciliation of everyone in the country.
Speaking in a sermon extracted from the book of Isaiah 60 verse 22, Bishop Manyando said it was time for the church not to condemn government but provide solutions to challenges being experienced.
He observed that if the church pointed an accusatory finger it would not help the country because if things were wrong, the church was part of it.
Meanwhile, Bishop Manyando called on the need to care and preserve various historical sites in the province and behold noting that history played an important part of the church.
He said different sites found in Sefula, Nalolo and other parts of the province required rehabilitation and security of the structures where missionary evangelists were laying.