LUSAKA:  On 25th May 2014, a thanksgiving service was held at St Andrews in honour of Rev Alex Mwalilino in Lusaka Central. Rev. Dr Kabonde-Mulambya described Rev Mwalilino as a distinguished servant of God who deserved commendation.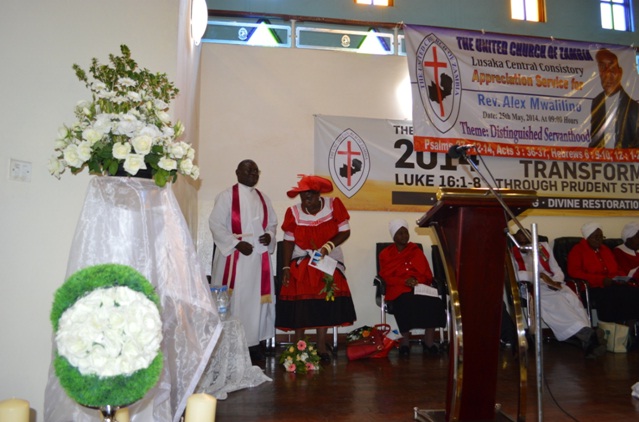 The service was attended by a number of UCZ ministers within and outside Lusaka Presbytery, such as Eastern and Copperbelt Presbyteries. Also in attendance were the Synod Bishop, the Right Rev Mutale Mulumbwa and the Presbytery Bishop Rodwell M Chomba. Others were Rev Committee Njase, Rev S Kapongo, Rev K. Simwanza, Rev Dennis M Sikazwe, Rev C. Mumba, Rev J. Msunza, Rev J.S. Matembo and the TEEZ  Director, Rev Kangwa Mabuluki.
In his address Rev Mwalilino paid tribute to the late Rev Paul Matembo who worked with him in advocating for the introduction of Charismatic worship in the UCZ. The service was led by the Rev Mwape Chilekwa.