UCZ LUAPULA PRESBYTERY– The United Church of Zambia (UCZ) Mbereshi Mission Hospital has received a donation of 53 mattresses and a sum of K30,000 kwacha from Luboto and Luanshya Town Congregations of the Copperbelt Presbytery.
The mattresses valued at K40,620 which were donated by the Women Christian Fellowship (WCF) of the two congregations is aimed at cushioning the mattress shortage at the facility as while the money will go towards the construction of Out Patient Department (OPD) and Staff toilets. In receiving the donation, Mbereshi Mission Hospital Administrator Rev.Webster Milanzi thanked the women for the donation. Rev.Milanzi said the donation will go a long way in the provision of quality health cares services to the community of Mbereshi.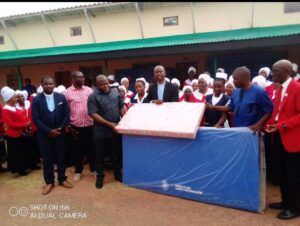 He stressed that the United Church of Zambia prioritizes health care as part of the social ministry. And Luanshya Town Congregation Minister-in-charge Rev .David Mujumila said the donated mattresses will be able to make a difference in the operations of Mbereshi Mission Hospital. "We pray that the help that we are handing over today is not the end of the journey, but when we go back and see ho best we could continue helping the hospital as a congregation," he said Meanwhile, Mwansabombwe Member of Parliament Kabaso Kampampi thanked the women on behalf of the community of Mbereshi. Mr.Kampampi said there is need for the Church to work together with government in face-lifting Mbereshi Mission Hospital.